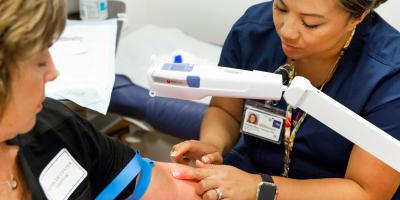 Measuring Safety
All experimental interventions create a potential risk for adverse or undesired side effects. Finding effective therapeutic interventions requires a careful evaluation of the balance between drug efficacy and risks of adverse effects. Our team adheres to the most professional standards for ensuring safety for participants in clinical trials.
We track the new developments in bench research to identify promising effective interventions with special attention to their safety profile. We pay attention to studies describing the systemic and nervous system toxicity of promising interventions in both animal models and early phase studies in humans. We incline towards interventions that show low toxicity and safe side effect profiles.
Prior to initiation of our clinical trials, we subject our proposed studies to strict safety scrutiny of federal and local regulators such as the US Food and Drug Administration and the UCSF Institutional Review Board. We make a constant effort to adhere to the highest ethical standards for protection of our participants to minimize risk during a clinical trial. Our team members maintain up to date training in the ethical conduction of science.
Operations during ongoing studies at our center include close attention to safety with a dynamic interaction between our team's clinician's, referring physicians, study sponsors and regulating agencies.
Our operations, including specimen (blood or spinal fluid) collection procedures and experimental drug administration, occur in the Neurosciences Clinical Research Unit (NCRU), located in the Mission Bay UCSF campus. Treatments occur under the direct physical supervision of our experienced group of clinicians and with the support of the NCRU nursing staff. IV infusions are routinely followed by a period of in-house observation to monitor for acute adverse reactions. This is emphasized when a participant receives a new drug or a new dose for the first time.
We stay in constant communication with participants in the form of routine safety in-person evaluations or scheduled phone follow ups to track changes and potential physical and psychological side effects. This includes the use of objective standardized scales to measure side effects and determine their severity and potential relationship to used interventions.
We comply with study protocols by reporting side effects and adverse events in a timely manner, so investigators in other centers can learn about the adverse events that we observe when we use an experimental drug.
Our safety monitoring process also includes routine blood tests and brain MRIs. The results of these tests are individually revised by our physicians and in the case of brain MRIs, also by a supporting staff of neuroradiologists. This has led to experience and development of internal protocols for management of complications related to anti-amyloid therapies.
Our team conducts bi-weekly meetings to revise recent cases, events and side effects with the purposes of determining prompt responses and managing recommendations
 In many cases, our studies are subjected to additional supervision of Data and Safety Monitoring Boards (DSMB), which are independent groups of experts that oversee data for participant safety and study progress and provide recommendations regarding the continuation, modification or termination of a trial.
Finally, our group contributes to knowledge about safety in clinical trials by conducting and publishing research on drug safety and the role of tools such as biomarkers for decision making during clinical trials.
https://www.ncbi.nlm.nih.gov/pubmed/29124108
https://www.ncbi.nlm.nih.gov/pubmed/24873720
https://www.ncbi.nlm.nih.gov/pubmed/23290598
https://www.ncbi.nlm.nih.gov/pubmed/19812461
https://www.alzheimersanddementia.com/article/S1552-5260(17)32117-9/fulltext