Staff Spotlight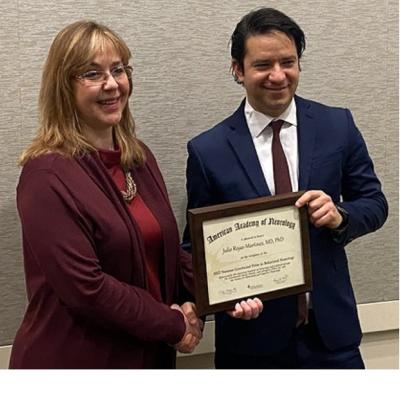 Julio Rojas-Martinez, MD, PhD, winner of the 2022 Norman Geschwind Prize in Behavioral Neurology
Congratulations to Julio Rojas-Martinez, MD, PhD, for being awarded the 2022 Norman Geschwind Prize in Behavioral Neurology, sponsored by the American Academy of Neurology and endowed through Dr. Geschwind's family, friends, and colleagues; Pfizer Inc; and the Society for Behavioral and Cognitive Neurology.
Dr. Rojas-Martinez's research, including more than 50 publications, combines clinical behavioral neurology concepts and biofluid analyses, thereby advancing science in aging and dementia.
"I'm deeply grateful to Dr. Geschwind's family, friends, and colleagues, and the AAN for this honor. The brain is the most fascinating piece of organized matter in the universe. Together with Dr. Geschwind's genius, vision, and legacy, this award inspires me and invigorates my commitment to help make the field of behavioral neurology one with unparalleled impact on scientific knowledge and care."
Current research in dementia is focusing on patients in the early stages of disease and new disease-modifying therapeutic strategies. Julio Rojas-Martinez, MD, PhD, University of California San Francisco, San Francisco, CA, speaks on the importance of optimizing management of patients at later stages of disease. Current medications for neuropsychiatric symptoms of dementia have many side effects, so non-pharmacological therapies are recommended as the front-line treatment strategy. Efficacy data supports the use of caregiver education and counselling as a non-pharmacological management strategy. Additionally, individualized programs are recommended for patients with dementia, using tailored activities and therapy sessions to maximize patient autonomy and quality of life. This interview took place at the American Academy of Neurology 2022 Congress in Seattle, WA.